Huntington Hard Drive Destruction
Physical files are not the only way for identity thieves to steal your private information. Did you know your hard drives also need to be destroyed before they leave your possession in order to be compliant with local New York and federal privacy laws? That's because digital files are fully recoverable from an old hard drive, even if you've scrubbed that hard drive of your files.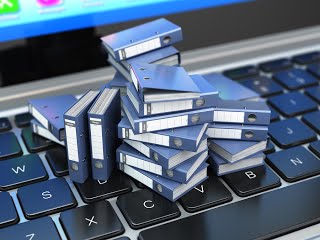 There is no other option when it comes to ensuring your security than physically destroying old hard drives. Huntington Shredding Service partners with local contractors that offer hard drive shredding—they'll pulverize your hard drive to ensure its destruction.

They can destroy your hard drives at your location or off site at our secure plant. Then, they melt the pieces for metal recycling. There will be no question about your security after their destruction.

Upon destruction, you will receive a certificate of destruction that indicates the process has been completed. This certificate is good to maintain records, especially if following a legal regulation such as HIPAA. The process is entirely secure and confidential, and after the certificate is delivered, you know for a fact that your electronic information is eternally safe.
Keep an eye out for hidden hard drives in your home and office.
Hard drives are hidden all around your home and office office in many of the electronic devices that you use, simply because many of these devices need a hard drive in order to operate. That means that any file you've ever sent to any of these devices have saved a copy of it on its hard drive. Commonly overlooked are scanners, fax machines, and printers. Other electronics that contain hard drives include:
Fax machines, scanners, copiers, and printers
Biomedical devices
PC hard drives
Optical media, including CDs and DVDs
USB removable media such as pen drives, thumb drives, flash drives and sticks
Memory cards
Embedded flash on boards and devices
RAM and ROM-based storage devices
Mobile devices like cell phones, smart phones, PDAs, tablets and laptops
Legacy magnetic media like floppy drives, zip disks and magnetic tapes
If you are concerned about the electronic devices you own or lease but are unsure whether or not they contain hard drives, give us a call at (631) 899-9175. We can discuss which electronic devices in your possession may be posing a threat.

Protect Yourself from a Data Breach—Enlist in a Huntington Hard Drive Destruction Service Today!
Huntington Shredding Service understands digital data is vulnerable too, which is why we provide secure, compliant destruction service options for the hard drives and all your electronic media devices. Ensure your safety by contacting Huntington Shredding Service to discuss which devices you are in possession of that may pose a threat to your or your business's security.
To learn more about hard drive shredding, simply fill out the form on the left or give us a call at (631) 899-9175.